2018 3rd International Conference on
Economics, Finance and Management Science
May 27-29, 2018
Hangzhou, China
Submission:

Jan. 20, 2018




(Extended to Apr. 20, 2018)

Notification:

20-40 days after the submission

Publication:

30-60 days after the final edition

Conference:

May 27-29, 2018
The conference accepts English and Chinese articles.
The information about the Keynote Speakers of ICEFMS2018 are as follows, which will be updated regularly.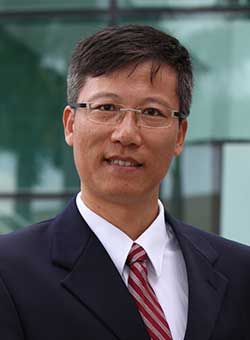 Dr. Xiaoquan Jiang, Associate Professor
Department of Finance, College of Business, Florida International University, USA
Biography: Dr. Xiaoquan Jiang graduated from The University of Houston with a Ph.D. in finance, Texas A&M University with a MS in economics, Sichuan University with MA in economics, and the University of Electronic Science and Technology of China with EB in electronic engineering. Dr. Jiang has diversified teaching experiences at different universities and overseas, for instance, Sichuan University, University of Houston, University of Alaska, University of Northern Iowa, Hong Kong Polytech University and Florida International University. Dr. Jiang has taught the courses in undergraduate level, graduate level (including Master of Science in Finance and MBA), and doctoral level. Dr. Jiang's research focus is on empirical asset pricing and valuation, risk-return relation, financial anomalies, capital market research in accounting. He has published papers in top finance journals, including the Journal of Business, Journal of Banking and Finance, Financial Management, Journal of Financial Markets, etc. Dr. Jiang received several best paper awards and research funds. Dr. Jiang served as a keynote speaker, session chair, presenter, and discussant for many national and international conferences.
Topic: Information Contents of Appraisal-based Index of Commercial Real Estate
Abstract: The commercial real estate market provides a unique environment to evaluate the information content of appraisal-based index of commercial real estate and the movement of transaction price to value. The assumption that asset prices, especially financial assets including stocks and bonds, reflect intrinsic value is the cornerstone of modern financial theory. Given the latent nature of intrinsic value, however, definitive empirical assessment has been difficult. The commercial real estate market's long-term use of both judgment (appraisal) based returns and transaction returns provides a test of the role of intrinsic value. Statistically significant results from cointegrating models suggest that transaction based returns deviate from judgment based returns in the short run, but converge back to the equilibrium state. Additional tests show that the cointegrating residuals among transaction, appraisal and REIT returns predict the one-quarter-ahead transaction returns. The transaction or price returns are predictable with convergence to intrinsic value. The market moves to intrinsic value.
Copyright © 2016-2018 3rd International Conference on Economics, Finance and Management Science - All rights reserved.